Cannes '06
Preview (Part 1):
One more year without a pass... for the real news from on site I'd check the New York Times blog that A.O. and Mahnola are (hopefully) doing again this year... Nerve has Mike D'Angelo there writing a
blog
as well. in the meantime, here's an (extensive) primer on what we're all missing.
I'm just dealing with feature films in the Competition... to truly tackle short films and the other features I'd need to be there, or at least not be making TV all the time.
Wong Kar-Wai is presiding over a star-studded Feature Films Jury: Monica Belluci, Helena Bonham Carter, Lucrecia Martel, Zhang Ziyi, Samuel L. Jackson, Patrice LeConte, Tim Roth, Elia Suleiman.
The opening film is Ron Howard's The DaVinci Code. It screens tomorrow night but the press screening was tonight. Even though there have been almost no leaks (because there haven't been any test screenings), you already know everything you need to about this movie: Tom Hanks, Audrey Tautou, Ron Howard, Brian Grazer, Akiva Goldsman.
The films in competition:
Pedro Almodóvar:
Volver
Volver stars Carmen Maura as a woman who, after her death, returns as a ghost to her hometown to resolve the loose ends she left in her life. Penelope Cruz and Lola Dueñas are her daughters, and Yohana Cobo plays her granddaughter.
Carmen Maura stars in her first Almodóvar film since Women on the Verge of a Nervous Breakdown (1988). Carmen was in the best of his early-period films: Pepi, Luci, Bom y otras chicas del montón (1980), ¿Qué he hecho yo para merecer esto!! (1984), Matador (1986), La Ley del deseo (1987), and Mujeres al borde de un ataque de nervios (1988). Its very exciting to see her back in the Almodóvar fold.
Sony Pictures Classics will release Volver in the US on June 23. The SPC press release calls Volver a "meeting of 'Mildred Pierce' (Michael Curtiz) and 'Arsenic and Old Lace' (Frank Capra), combined with the surrealistic naturalism of Almodóvar's fourth film, '¿Qué he hecho yo para merecer esto!!' (What Have I Done to Deserve This?)."
Inspired by his own mother, Volver indulges Almodóvar's obsession with female relationships, death, and motherhood, also exploring the gap between the places we come from and we places live (the people we were and the people we have become?).
Almodóvar won the best director prize in 1999 for All About My Mother.
The HD-shot British film
Red Road
is the first feature from Andrea Arnold. It's part of a project conceived by Lars von Trier where "three different promising writer-directors make three different features all using the same actors playing the same characters." (
Variety
). Andrea's 2003 short "
Wasp
" won the Oscar for best live-action short and the short film prize at Sundance in 2005.
Lucas Belvaux has a new film at Cannes, La Raison Du Plus Faible (The Weakest Is Always Right). While I don't know much about it (except that it's about a holdup, and either a drama and/or a comedy), a Belvaux film is an event for his ambition alone. In 2002, he released The Trilogy, a series of 3 films (On The Run / An Amazing Couple / After Life) that follow a a set of interlocking characters. Each film, though, uses different genre conventions: An Amazing Couple is comedy, On The Run is a noir thriller, After Life is a romantic drama.
Here
is an interview with Belvaux about The Trilogy. He's also a significant actor, with over 40 films to his credit, including the lead in La Raison Du Plus Faible.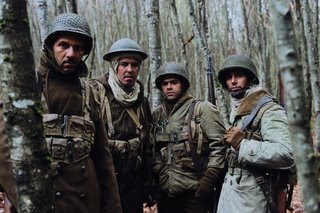 Indigènes
follows 4 of the Algerian French soldiers who helped liberate France in WWII. It hans't been often recognizedr that thousands of the soldiers who liberated France in the 1940's were recruited from French colonies in Africa. In 1996 director Rachid Bouchareb was nominated for the Best Foreign Language Film Oscar for "Poussières de vie" ["Dust of Life"].
Israel Adrián Caetano brings
Crónica de una fuga
from Argentina.
GoodAirs
sums it up as "The story of four Argentine men, more or less free of political leanings, who are kidnapped and taken to a 'detention center' in the aptly-named suburb of Morón in the late 70s, the movie follows 120 days of interrogation and torture until the men escape one rainy night." having seen trailers / reas synopses / etc, I am superexcited to see this film. Peruse the website it's a good one. Caetano's A Red Bear was in the Director's Fortnight in '02, and got a ton of Silver Condor nominations (from the Argentina Film Critics Association). Crónica was an unexplaiend late add to the Competition, originally selected for Un Certain Regard.
Iklimler
("Climates") is a Turkish film by Nuri Bilge Ceylan. Ceylan won the Grand Prix at Cannes in 2003 for Uzak ("Distant").
Please watch the
trailer
for Iklimler, it's really good.
Sofia Coppola is presenting Marie Antoinette, starring Kirsten Dunst and Jason Schwartzman. I've already addressed this film somewhat in previous posts. Check the most recent international trailer
here
.
Pedro Costa's Juventude en Marcha is, i think, the only Portuguese film in Competition this year. It is about the passage of time in one's life - at least I think so. It's actual plot involves the impending demolition of a neighborhood, a woman leaving her husband, and an old man who thinks he is young.
Guillermo del Toro brings his horror-fairy tale "
Pan's Labyrinth
" to the Festivale... per Guillermo, Pan's Labyrinth "is the story of a young girl that travels with her mother and adoptive father to a rural area up North in Spain, 1944. After Franco´s victory. The girl lives in an imaginary world of her own creation and faces the real world with much chagrin. Post-war Fascist repression is at its height in rural Spain and the girl must come to terms with that through a fable of her own." Trailer at the website. del Toro is the filmmaker behind Cronos, and The Devil's Backbone, and Hellboy... as well as Mimic and Blade 2.
Flanders
is
Bruno Dumont
's latest... it's a love story, and a war story. Dumon'ts L'Humanité won the Grand Jury Prize, Best Actor, and Best Actress awards at Cannes in 1999 [with 2 nonprofessional stars!].
10 down, 10 to go... another brief intro to the films should be expected soon... also expect me to pepper the blog with quotations of other people's reactions to the films and links and pics stolen from anyone in Cannes with an internet connection.
Plus, I bet you can't wait to hear my reaction to Mission Impossible III. Be ready for "An Open Letter to J.J. Abrams," coming soon.